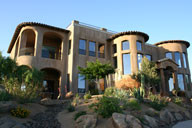 Most Recent
Price Reductions:
No Listings Found
Most Recent
Listings Added:
No Listings Found
Treat Yourself to Fountain Hills Luxury Properties
A life of privilege and exquisite beauty can be yours. High-end Fountain Hills real estate makes it possible. Browse the MLS and you will currently find 70 listings for incredible luxury homes. Imagine living amidst the natural beauty of pristine desert landscapes. The only thing more thrilling than your home's scenery will be its interior's sheer comfort! Enter through an eight-foot front door and step into a foyer that's adorned with fine marble flooring.
Discover a kitchen with oversized restaurant-style stovetops, double-ovens, custom cabinetry and stainless steel appliances. Settle into a family room with a full home theatre system. Relax in your master bedroom's sitting room and marvel at the comfort of upgraded carpeting and padding beneath your feet. Take a relaxing soak in your master bathroom's Jacuzzi tub. Admire lovely wood trim and crown moldings throughout your home.
Explore Local Resorts and Spas are within Reach
Owners of Fountain Hills luxury properties delight in the close proximity of renowned resorts and spas. The Phoenician's fitness and wellness consultants will assist in your efforts to live a healthier lifestyle with their holistic approach to diet, exercise and emotional health. Skin and body treatments will add to your sense of rejuvenation. The fabulous Spa at Gainey Ranch invites you to soak in its expansive mineral pool after a soothing massage.
While you bask in the spa's comfort, your kids will love participating in Camp Hyatt. Camp Hyatt provides fun educational and outdoor activities for its younger guests. Later in the evening, make a reservation at Alto, the resort's charming Italian restaurant. After dinner, treat yourselves to a gondola ride on Gainey Ranch's peaceful lake! The resort's expansive patio with outdoor fireplaces is a wonderful place to unwind at the end of the evening.
Discover Breathtaking Luxury Homes
There are many exclusive communities in Fountain Hills from which you can choose, so you are sure to find the home of your dreams! Purchase a home on a deluxe hillside lot in the Shadow Canyon community and treat yourself to spectacular mountain views. Shadow Canyon features the heightened sense of peace of mind that comes with a gated entry. Many homes in the Eagles Nest neighborhood have private pools and spas for your comfort and delight. Its entry is gated and also guarded. Eagles Nest also offers hillside lots and magnificent mountain scenery. The Crestview neighborhood is gated, and you will find many homes on incredible hillside lots. Relax in your backyard and delight in panoramic sights of city lights and surrounding mountains.