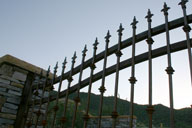 Most Recent
Price Reductions:
No Listings Found
Most Recent
Listings Added:
No Listings Found
Fountain Hills Gated Real Estate Offers Exclusivity
You can give yourself the gift of privacy when you purchase one of Fountain Hills' gated properties. Currently on the MLS, you can select from 81 listings for lovely gated homes. Marvel at the peace and quiet when your street encounters limited traffic. Choose a gated neighborhood with a guarded entry, and experience an even greater sense of security. Many gated subdivisions feature astoundingly beautiful views of nearby mountains, as well as sparkling city lights at night. Enjoy getting to know your neighbors in a more intimate setting!
Find Gated Homes in Several Neighborhoods
There are numerous private Fountain Hills communities from which you can choose. Firerock is beautiful golf subdivision with the peace of mind provided by a guarded and gated entry. Owners enjoy spectacular golf course views, deluxe hillside lots, as well as great views of the mountains and city lights. The Crestview neighborhood also has available hillside lots with views of city lights and surrounding mountains. Massive covered patios and decks provide the comfort of shade from the desert sun. Shadow Canyon is a gated community with available hillside lots, as well. Residents enjoy the heightened sense of security that comes with a gated entry, and marvel at spectacular mountain views.
Take Advantage of Local Amenities
Fountain Hills gated real estate gives you the privilege of living in a town with several expansive public parks. Visit Fountain Park and utilize its 64 acres of outdoor wonder. Fountain Park is the anchor of the town's center, displaying the famous namesake fountain that shoots a plume of water over 500 feet into the air. Kids love its playground, and youths and adults alike love playing its 18-hole championship disc golf course. Its large picnic ramadas are perfect places to gather with friends and family for a barbeque and a game of volleyball. Golden Eagle Park covers 25 acres, and offers four lighted ball fields. The park also features four lighted tennis courts, two lighted basketball courts, and two lighted sand volleyball courts. Gather some friends and head to Golden Eagle Park for a game of softball!