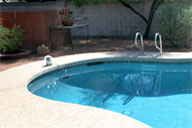 Most Recent
Price Reductions:
No Listings Found
Most Recent
Listings Added:
No Listings Found
Discover Fountain Hills Houses for Sale with Private Pools
Currently on the MLS, you will find 158 homes from which to choose that feature this deluxe amenity. Purchase a home with a swimming pool in Fountain Hills, AZ and treat yourself to a resort-style backyard. Delight in entertaining friends and family, and invite them to share in the pleasure of a refreshing swim! Your home will become the envy of many when they experience the wonder of its breathtaking mountain views.
Your guests will marvel at the pristine desert scenery located just outside the gates of your yard. A towering saguaro cactus stands just several feet away and hummingbirds buzz past in search of desert flowers. Sightings of elegant quail and vibrantly colored finches are a daily occurrence. Grill some burgers and hot dogs, and challenge your friends to a game of horseshoes or croquet.
Enjoy Nearby Activities and Fine Dining
Owners of Fountain Hills pool properties relish their rich and fulfilling lifestyle. When you're not entertaining at home, you'll be taking advantage of your thrilling choices among local activities and fine dining destinations. The Fireside Grill is a favorite of area residents. Its best known for its colossal half-pound prime rib, served up with a mound of vegetables and a giant baked potato that's drowned in butter and sour cream. For lighter fare, order their excellent chef's salad.
Fountain Hills' neighbors to the east are the Yavapai Nation at Fort McDowell. The Yavapai community invites homeowners to play their stunningly beautiful We-Ko-Pa golf course and to enjoy their fantastic restaurants. Of course, Ft. McDowell is best known for its exciting gaming action and unique shows. Have fun trying your luck at roulette or honing your skills at one of their many poker tables.
Choose from Among Several Deluxe Communities
You will find Fountain Hills houses for sale with private pools in several luxurious neighborhoods. Many homes in the Crestview subdivision are situated upon spacious and peaceful hillside lots. As you lounge by your pool, you'll take in the marvelous sight of nearby mountains. In the evening, sparkling city lights will inspire you!
Many of Sunridge Canyon's homes can also be found on lovely hillside lots and owners appreciate views of its lovingly maintained golf course. Many of Balera at Firerock's homes feature private pools and spas, and their golf course views are magnificent. Residents also appreciate its private, gated entry.