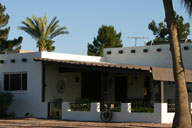 Most Recent
Price Reductions:
No Listings Found
Most Recent
Listings Added:
No Listings Found
Find Amazing Fountain Hills Affordable Homes for Sale
Imagine living in a town that is situated on the eastern slope of the McDowell Mountains. It's described by its residents as an upscale community with small town character. The town is known for its expansive luxury homes, but buyers can still find Fountain Hills affordable homes for sale. Currently on the MLS, there are 208 listings for available homes that will surely not break your budget!
You will benefit from marvelous community activities, great restaurants and shops, as well as its close proximity to Phoenix and neighboring Scottsdale. The town is named for its spectacular fountain, which launches a plume of water over 500 feet into the air! The fountain rests upon a concrete water-lily structure in the center of a man-made lake.
Enjoy Fabulous Local Activities
Purchase one of Fountain Hills' inexpensive houses and treat yourself to a wonderful lifestyle. Attend the annual Fountain Festival of arts and crafts and browse the lovely art work of over 480 participating artists. The festival also features excellent live music and dozens of gourmet food providers are there to satisfy visitors' appetites.
Fountain Hills' Recreation Department invites you to express yourself through its many educational classes. Tap into your creative side by signing up for a class in drawing, faux painting, oil painting or watercolor painting. For fantastic local dining, be sure to stop into Que Bueno Mexican Restaurant. Their homemade tortilla chips and savory salsa delight loyal patrons. Mama's Italian Kitchen is also a local favorite. Be sure to order their amazing cannoli for dessert. It will surely have you returning for more!
Live Affordably in an Upscale Community
There are a wide variety of affordable Fountain Hills homes for sale, so you are sure to find a home that meets your every need and desire. The Fontana community offers affordably priced homes as well as the luxury of a heated pool and heated spa. Purchase a condo in the Saguaro Ridge neighborhood and treat yourself to remarkable views of mountains and city lights. Saguaro Ridge also gives its residents the comfort of a heated pool and heated spa. The homes of Summerset Villas enjoy spectacular mountain views, and residents love to cool off in its lovely community pool. Spacious balconies and decks give you a great place to sit and soak up the warm sunshine