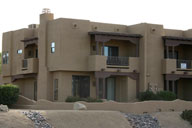 Most Recent
Price Reductions:
No Listings Found
Most Recent
Listings Added:
No Listings Found
Discover Amazing Fountain Hills Condos for Sale
Give yourself the gift of a comfortable, low-maintenance homeownership experience. Condos and townhomes in Fountain Hills, AZ make it possible. Currently on the MLS, you can review 148 listings for available units in this upscale community. Imagine never again wasting your valuable weekends toiling in the yard! Put your lawnmower into storage and let your weed wacker collect dust in the garage. Sit back and relax as professional landscapers worry about beautifying the common areas. Take advantage of your Saturdays and Sundays to spend time with family, entertain friends or explore the area's unique attractions. As a homeowner in Fountain Hills, you are never without a multitude of activities of which you'll love taking advantage.
Fountain Hills Townhouses and Condos Offer a Great Location
Drive just minutes to the local grocery store, dry cleaners and pharmacy. Just 12 miles away, visit Scottsdale's upscale Kierland Commons shopping center to browse their numerous fine retailers. Outfit your kitchen and dining room with stylish wares from Crate and Barrell. Plan a dinner party, and you'll have the perfect excuse to splurge on new dishes, glassware and placemats. Stop into Anthropologie and treat your home to fine accessories like ornate wall mirrors and fine candlestick holders. Round out your wardrobe at the Banana Republic and Chico's. Once you've worked up an appetite, sit down for a wonderful meal at the Cheesecake Factory. Don't leave until you've indulged yourself with one of their renowned pieces of cheesecake!
Explore Fabulous Condo Communities
Fountain Hills condos for sale can be found in many exquisite neighborhoods. The Copperwynd community features homes with incredible views of the golf course and residents can unwind after work with a game of tennis. Balera at Firerock is an exclusive golf course community with a gated entry. Homeowners enjoy the pleasure of a heated swimming pool and relaxing spa. Fountainhead at Lakeside Village is another gated community that offers the comfort of a heated pool and spa. Lakeside Village features the added scenic beauty of a gorgeous lake! Many units border a common area, giving owners the luxury of a great view.