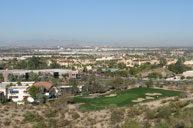 Most Recent
Price Reductions:
No Listings Found
Most Recent
Listings Added:
No Listings Found
Fountain Hills View Homes for Sale Offer Inspiration
Every day is an inspiration when you live amidst the desert's remarkable beauty. Your house with a view in Fountain Hills will provide that inspiration. Currently on the MLS, you will find 311 listings for homes that offer breathtaking views. The western horizon is filled with the majestic sight of the McDowell Mountains, including the summits of McDowell Peak and Thompson Peak. To the east, the Four Peaks Wilderness area provides incredible scenery. To the southeast, marvel at the Usery Mountains and Goldfield Mountains. Legendary Superstition Mountain also graces the horizon to the southeast. To the south, you'll admire Saddleback Mountain. In the evening, homeowners can enjoy the pleasing sight of sparkling city lights!
Get Out and Explore the Glorious Terrain
Owners of scenic Fountain Hills real estate agree that the mountains are even more inspiring when experienced firsthand. Take a short drive to the McDowell Sonoran Preserve and immerse yourself in its wonder. Put on your hiking shoes or hop on your mountain bike and traverse its 100+ miles of fabulous trails. For a truly unique adventure, take a rafting trip down the Salt River!
Drive east to Gold Canyon and enter the Superstition Mountain Wilderness Area. The Perralta Trailhead beckons lovers of the outdoors to bask in its expansive and wondrous trail system. The historic Apache Trail is your premier destination for an educational adventure by way of a Jeep tour. Closer to home, a day of beautiful weather and the great company of friends and family are yours when you plan a picnic or barbeque at the Four Peaks Neighborhood Park.
Find a Perfect Home with Marvelous Scenery
You'll find Fountain Hills view homes for sale in a wide variety of lovely neighborhoods. Many homes within the Eagles Nest Community are situated upon deluxe hillside lots, and provide owners with astounding mountain views. Eagles Nest residents appreciate the added security of their gated and guarded entry. Homeowners within the Eagle Mountain neighborhood may enjoy views of its beautiful golf course, in addition to the mountains and city lights. Eagle Mountain also offers the peace of mind that comes with a gated and guarded entry. Shadow Canyon is a gated neighborhood with available hillside lots and phenomenal views of the mountains.